Short bio
Fintan McKahey is a low-fi indie singer/songwriter from Cork, Ireland. He started playing and writing music at a young age, and has been releasing music since 2016. A multi-instrumentalist and producer, he is proficient across several instruments and produces all of his own music. His 2019 Debut EP "God Games" received critical acclaim from radio and press, as did his 2020 single "Platinum." He has performed in major venues across the country, including support slots for the likes of The Scratch, Junior Brother, and Roisin O.

Though Fintan loves performing, his true passion lies with creating in the studio. He has been writing and producing since a young age, and is influenced by solo artists/producers such as Chet Faker and Bonobo, as well as songwriters like Ben Howard, Matt Corby, and Nick Drake.

Fintan creates music that is spacey, chill, and at times experimental and psychedelic, incorporating influences of bedroom pop and trip-hop.

He has released two EPs and several singles, achieved national radio play and critical press acclaim.

Fintan's Story
Fintan McKahey is a low-fi indie singer/songwriter from Cork, Ireland. Fintan comes from a musical background; his father the drummer of indie punk band – Stump, and his uncle frontman of indie pop band Cousteau. He started playing and writing music at a young age, with his main instrument being guitar. He was involved in several other musical projects, playing both bass and guitar.
At age 16, Fintan left school to attend art college, and in his mid teens started venturing into recording. His interest in other instruments grew as he sought out the ability to make full band material on his own. He started making beats and was influenced by downtempo and low-fi music, finding unorthodox methods to make hi-fi sounding material. He began releasing music in his mid-teens. After completing art college, Fintan took a break from music to pursue acting for several years.
At 19 he attended BIMM London and focused on songwriting & producing.

Two Lifetimes Late
In 2015 he returned to Ireland, started playing bass in the band The Nash Brothers, gigging around Ireland and getting a feel for the live music scene. In 2016 he started writing and recording his first EP, "Two Lifetimes Late."
Roimh
Following the release of his Debut EP, he released "Roimh," a collaboration with fellow Cork based DnB producer – 'Tone'' that saw him explore a more electronic sound.

God Games
In 2018 he started writing and recording his second EP, "God Games" in his home studio in West Cork. The EP was released in April 2019, and received critical acclaim from radio and press. The release of the EP in 2019 led to his biggest year yet.
In Summer 2019 the EP was promoted with an Irish tour, with Fintan playing over 20 shows around ireland. The self-planned tour consisted of a mix of solo and full band shows, as well as both support and headline shows. Fintan performs both on his own, using a loop pedal to create emotive and engaging soundscapes, as well as with a full band.
Fintan has performed in major venues across Ireland such as St. Lukes, supported the Scratch in DeBarra's Clonakilty, and Junior Brother in Connolly's of Leap. He supported The 4 of Us in several of their tour spots such as Whelan's and Live at St. Lukes. He also supported Cry Monster Cry on several of their Irish tour dates including Mike the Pies in Kerry. He also played support slots for Roisin O, as well as a performance at the Ruby Sessions.
In September 2019 he performed in 3 Arena for Newstalk Radio Show. He also performed a Live session and interview on RTE1. His single "Cultural Trance" gained traction on 96FM which led to radio play on several other national radio stations across Ireland. Fintan also performed in the Aviva Stadium for Beatvyne in October 2019.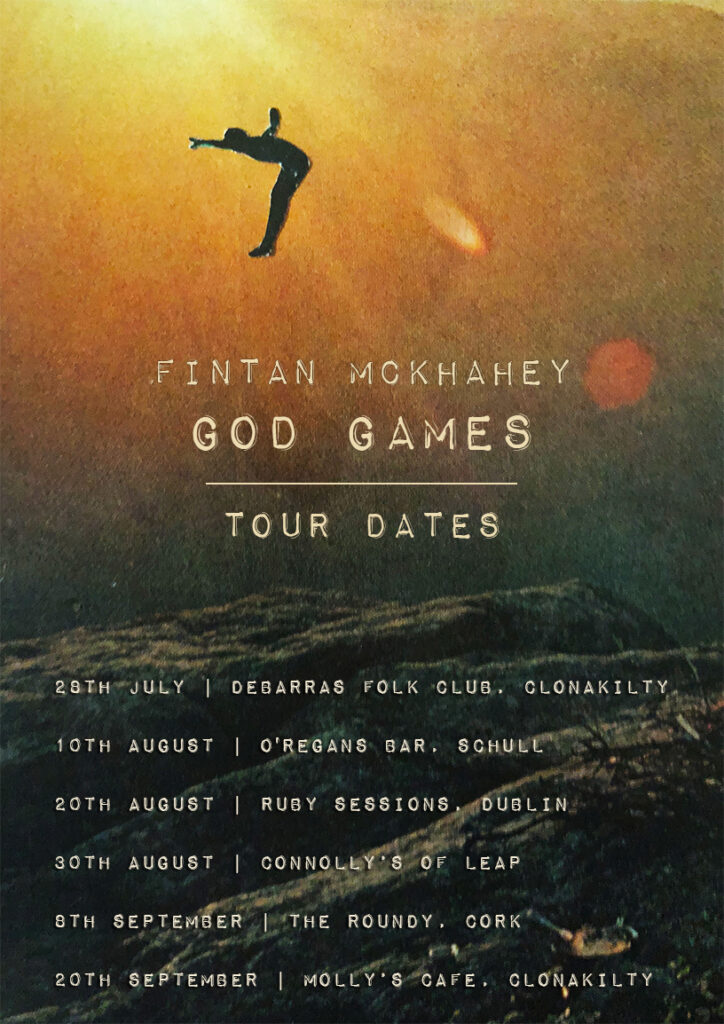 In October 2019 he released a follow up single, "Rebound Effect" and continued building his live set list until lockdown.
In the winter of 2019, Fintan built a recording studio in West Cork, where he recorded both the audio and video followed for his single "Platinum" which received wide acclaim from blogs and national radio stations. You can check out the studio in action in the official video..
Fintan works as a sound designer, and enjoys composing sounds for images.
Press Quotes
"Fintan McKahey is one of those songwriters that touches your heart from the word go… this new tune of his. It's just over five minutes of wonderment…" It's All Indie blog
"Chilled and effortless quality" Eric Lalor, JOE.ie
Engaging and often hypnotic Cougar Microbes, music blog
"God-given talent ready for another leap of faith" Sarah Horgan, Ones to Watch in 2020, The Echo
"…One of West Cork's finest rising stars at the moment… Forever innovating… more electronic experimentation alongside his Psychedelic roots in this new single 'Platinum'" – The Merch Perch, blog